Facial-Oral Tract Therapy (F.O.T.T.)
This practice-oriented textbook describes the treatment approach for facial-oral disorders in neurological patients of all ages according to Kay Coombes.
The therapy concept can be applied in every rehabilitation phase from the intensive care unit to the stroke unit and early rehabilitation to outpatient rehabilitation. It can be used for all degrees of severity of the disorder.
Treatment approaches for swallowing disorders, breathing, speaking and voice, oral hygiene as well as tracheostomy tube management are described in a practical way with illustrations.
This is the ideal practical and specialist book for speech and language therapists, occupational therapists, physiotherapists, doctors, nurses and also for family carers, for implementing the holistic therapy concept in the interprofessional team.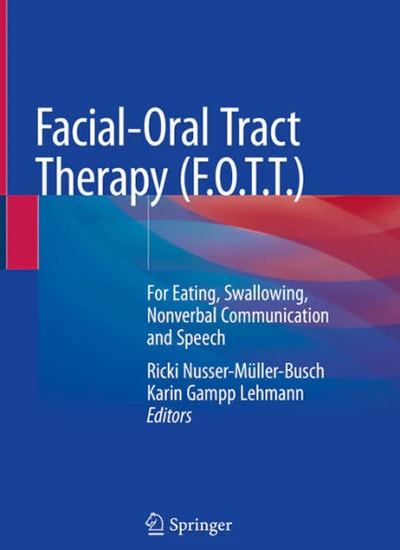 Facial-Oral Tract Therapy (F.O.T.T.)
Ricki Nusser-Müller-Busch, Karin Gampp Lehmann (Editors).
Springer Nature Switzerland AG. 1. Edition, 2021.
ISBN 978-3-030-51636-9 (Hardcover)
ISBN 978-3-030-51639-0 (Softcover)
ISBN 978-3-030-51637-6 (eBook)